Dual Accento Professional Laser Hair Removal Equipment
2 Gold Standard Lasers in 1 System
Combination of an Alexandrite and Nd:Yag Laser which is gold standard for hair removal.
Multi-Treatment Cosmetic Laser
Over 20+ treatment options proving the Dual Accento Is the ultimate hair removal laser.
More Treatments With More Spot Sizes
Deliver over 20+ treatments with a greater available spot sizes from 2-20mm.
Premium Laser Beam Delivery
Internal premium components of the Dual Accento are equivalent to lasers which cost double
Premium Results With High ROI
Deliver your clients the results the want with the ultimate hair removal laser with 20+ different treatments
Virtually Painless Hair Removal Laser
Provide your clients with the speed and power options to deliver virtually pain free treatments.
Buy the Best Alexandrite and Nd:YAG Professional Laser Hair Removal Equipment
Apply For Leasing or Financing. It's Easy! 
Estimated Monthly Payments:
36 months: $2,868/month
48 months: $2,217/month
60 months: $1,835/month
Key Benefits :
Affordable Dual Wavelength for Alexandrite and Nd:YAG Laser
Easy to Operate - Friendly User Interface
Most Powerful Dual Wavelength 755nm & 1064nm Laser
Fastest Delivery Speeds in the Industry, Up to 10Hz
Advanced Nd:YAG and Alexandrite Technology for More Treatments
Greater Versatility in Spot Sizes, 2mm - 20mm included.
Accurate Contact Cooling with Built-in Cryo Delivery
Built-in Hard Drive, Save Over 400+ Protocols
Specialize in Laser Hair Removal, Skin Rejuvenation and Vein Treatments
FDA Approved Alexandrite 755 nm & 1064 Nd:Yag
Laser Hair Removal
Wrinkles
Pigmentation
Vascular Lesions (Port of wine, hemangiomas, telangiectasia)
Warts
Rosacea 
Venus Lake
Leg Veins
Spider Veins 
Age spots, sun spots, Cafe Au Lait, nevi, Seborrheic Keratoses
Melasma
Skin tags
MAXIMIZE TREATMENT OFFERINGS 
All-in-One Dual Wavelength Professional Laser hair removal equipment with so much more. 2 gold standard laser wavelengths, Alexandrite 755 nm and 1064 nm Nd:Yag with fiber delivery. Designed to offer so much more than hair removal, trusted technology, and massive savings compared to similar technology.  Don't buy multiple lasers to treat different conditions, with the Dual Accento you are able to accomplish a list of treatments for true multifunction technology delivering premium results.  
PREMIUM LASER TECHNOLOGY 
Gold standard laser wavelengths safe for all shades of skin with premium laser beam delivery. Advanced Fiber Hand Piece Delivery with Built in Camera and Topical Cooling for the best laser hair removal equipment in the industry. Interchangeable spot size tips of 2-20 mm for exact tissue targeting. Secondary HD screen that displays the HD camera view built into the hand piece. Target facial veins or leg veins as well and a long list of other treatments sure to maximize ROI to your business. 
TWO GOLD STANDARD WAVELENGTHS
The combination of 2 different laser wavelengths, suitable for all skin, and designed by delivery of optics with fiber equates to top tier technology. A true specialized laser system for a variety of treatments like pigmentations, veins, larger leg veins, smaller veins in the face, hair removal, skin rejuvenation, genesis toning, and more. The Dual Accento is considered top of its class with an advanced internal design for a premium build. High quality beam delivery due to optics and fiber connected hand piece. 
VARIABLE SPOT SIZES 
Different spot sizes are available by replacing the tips into the hand piece which auto recognizes the spot size. The internal computer system updates the spot size that has been inserted into the hand piece and auto-adjusts appropriately. Spot sizes are available 2, 4, 6, 8, 10, 12, 16, & 20 mm. Each spot size is equipped for internal lenses and a window lens which produces a premium beam quality. Use a small 2 mm spot size to target exact tissue or use a 16 mm / 20 mm spot size for large area laser hair removal.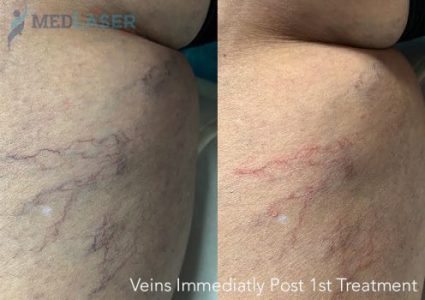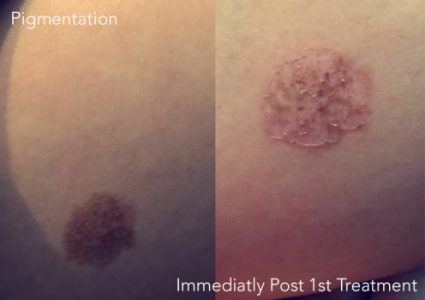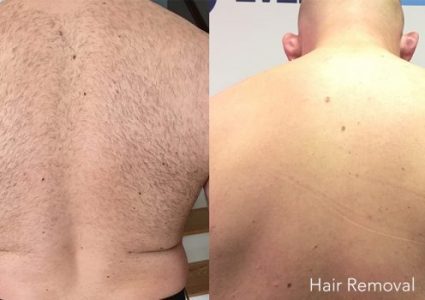 Why the Dual Accento Laser?
The Dual Accento 755nm Alexandrite and 1064nm Nd:YAG is the fastest and most affordable Alexandrite and Nd:YAG laser hair removal equipment in the industry. The Dual Accento is the best aesthetic laser for hair removal because it provides users with 2 gold standard wavelengths. The Alexandrite and Nd:YAG Long Pulse, with the proper energy, spot size and cooling are the very best tools for laser hair removal, which is globally recognized and backed by many years of clinical evidence and research. The Dual Accento Alexandrite & Nd:YAG laser is the best all in one laser for hair removal, sun damage, laser skin rejuvenation, correction of pigmentation, vascular lesions and tightening.  If your looking to buy a Candela GentleMax Pro laser or buy a Cynosure Elite and are looking to save a significant amount of money, then the Dual Accento will provide you with the most effective and affordable aesthetic laser for your business.
Buy Laser Hair Removal Equipment With 2 Wavelengths
The Dual Accento cosmetic laser by Bison Medical is the ultimate laser hair removal equipment which is safe on all skin types. The Dual Accento has 2 laser wavelengths in the system, both 755nm alexandrite laser and the 1064 nm nd:yag laser. Both laser wavelengths provides over 20 different treatment options beside laser hair removal. Do more than just laser hair removal and invest in a system that provides a long list a treatment options your clients will continue to come back for.
A Multi-Treatment Cosmetic Laser System
The Dual Accento laser hair removal equipment is not just for hair removal but has over 20+ different treatments. Adding the Dual Accento will maximize your revenues and provide your clients many treatments they will gladly be a return customer for. Develop a successful medical spa by adding toning, tightening, leg veins, facial veins, pigmentation and much more that the Dual Accento cosmetic laser system provides.
Why The Dual Accento Hair Removal Laser?
Add the ultimate hair removal laser to your clinic, the Dual Accento cosmetic laser will provide a long list of treatments that will substantially increase revenues to your business. The Dual Accento is luxurious, affordable, and effective FDA approved 755 alexandrite & 1064 nm Nd:Yag laser that is safe on all skin types. The system has 2 wavelengths allowing you to offer your clients a long list of treatment options.
Advanced Cosmetic Laser Technology
The system is extremely fast with the ability to go up to 10 hz and is the only device in the world which has a 5x HD camera. This feature allows you to target focus in on treatment areas not so visible to the naked eye. Utilize large spot sizes and increase the laser firing rate allowing you to complete large treatment areas in record time. The internal components of the Dual Accento laser system are equivalent to cosmetic lasers which are over 150k.
Affordable Cosmetic Laser Replacement Parts
The Dual Accento replacement parts are a fraction of the cost as competitors. This means you will save significantly long term on parts and service. Bison Medical devices are luxury lasers without luxury prices. On average you will save $20,000 to $50,000 when you buying cosmetic lasers from MedLaser USA.
Put that money back into your pocket!
Speed, Power, and Larger Spot Sizes to Maximize Efficiency
The Dual Accento laser hair removal equipment will provide the speed power and larger spots sizes to improve your speed during laser hair removal treatments. Reduce treatment times with larger spot sizes which come standard with the Dual Accento. Spot sizes 2, 4, 6, 8, 12, 16, and 20 mm spot size hand pieces.
Increased Treatment Visibility With HD Camera Display
The Dual Accento laser hair removal equipment comes standard with a 5x zoom live HD camera for treatment viewing and provides the ability to view pigmentation or skin conditions not so keen to the eye. This can benefit your practice with giving you the ability show your patient what can be treated.
Dimensions:  850(W) x 1330(H) x 500(D)(mm)
Weight:  120 Kg
Main voltage:   220/230V, 50/60Hz
Maximum power consumption:   2990 VA
Main current:   12A
Safety class:   Class 4 laser according to EN60825-1
Laser Type:   Long pulsed Nd:YAG Laser and ALEXANDRITE Laser
Wavelength:   1064nm and 755nm
Beam delivery system:   Via optical fiber ∅ 1000µm x 3m
Aiming beam:   532nm, 5mW
Maximum energy:   Up to 100J for Nd:YAG, up to 60J for ALEXANDRITE
Maximum Pulse:   fluence Max 600J/cm²
Pulse Width: 0.2 – 350 ms
Frequency:  0.4 – 10.0Hz
Beam Mode Quality:  Top Hat Mode
Skin Cooling Type: Spray cooling or Air cryo cooling
Laser Cooling:  Water-to-air heat exchanger
Pulse Control:   Finger, Foot switch, Wireless Foot switch
Calibration:   Auto-calibration through external port
Spot Size:   Ø 2,4,6,8,10,12,16,20 mm (Auto-Detected)
Display System:   10.4" Touch LCD GUI
Memory Slot:   400 Protocols