Elysion-Pro Professional Laser Hair Removal Machine
Best Profesional Laser Hair Removal Machine
Best in class laser hair removal machine, longer life, increased durability, proven reliability, no cosumables. 
Variable Spot Sizes & Greater Power
18 x 10 mm & 10 x 10 mm sizes, ultra short pulse technology, and greater power with up to 2000 W.
Durable - Run All Day 
Enhanced internal technical design, latest advancement, enhanced durability. Longer life & cheaper to run. 
Extended Warranty Options
Option to extend warranty up to 3 years! We stand behind the durability of elysion-pro.
Affordable - No Hidden Running Costs 
No consumables, reliable, low maintenance requirements, longer life, premium laser hair removal equipment.
USP Ultra Short Pulse
More effective laser hair removal with ability to product 20J/10ms, other lasers capped at 20J/40ms
Elysion-pro, Professional Laser Hair Removal Machine
Estimated Monthly Payments:
36 months: $2,282 per month
48 months: $1,764 per month
60 months: $1,460 per month
Key Benefits :
Easy to Operate
Lower cost of acquisition
2000 W of power
18 x 10 mm & 10 x 10 mm Hand Piece
Higher Efficiency & Speed up to 15 Hz
Low Maintenance Requirements
Longer Life
Extended Warranty Options
Increased Durability due to technical design. 
Proven Reliability 
No Hidden Running Costs
Gold Standard 810 nm Diode
Effective & Affordable Laser hair removal machine
Safe On All Skin Types
Faster Treatment Types with True In Motion Mode
FDA Approved for Laser Hair Removal
• Hair Removal with Static and Dynamic modes intended for permanent reduction in hair regrowth, defined as a long term, stable reduction in the number of hairs re-growing when measured at 6, 9, and 12 months after the completion of a treatment regime.
• Treatment of Pseudofolliculitis barbae (PFB)
• Use on all skin types (Fitzpatrick I-VI).
AFFORDABLE LASER HAIR REMOVAL MACHINE  
A premium laser hair removal machine with enhanced effectiveness. Elysion is a high powered diode laser reducing the time per session as well as number of sessions required. Offering an affordable option that brings profitability back to hair removal. Reduce your overhead with Elysion diode laser hair removal machine, no consumables, durable due to enhanced technical design, longer life, more efficient internals producing consistent power, and true square beam delivery. Do not be mistaken by cheaper lower powered diode lasers that will not provide the results of Elysion. Pro results for a clinic that cares about their customers. 
ELYSION-PRO 810 NM LARGE DIODE HP
810nm:

Our most powerful solution thanks to its versatility and effectiveness related to its high power (2,000W). Safe for all skin types. Boasting 2 spot size options, 10 x 10 mm or 18 x 10 mm for large and small ares. Elysion-pro pioneers the market to be the best professional laser hair removal machine due to its versatility. There are 3 markets for laser hair removal machines, low power, medium power, and high power. The Elysion-pro pioneers in the high-end high power diodes for PRO results, maximum profitability, and longer life.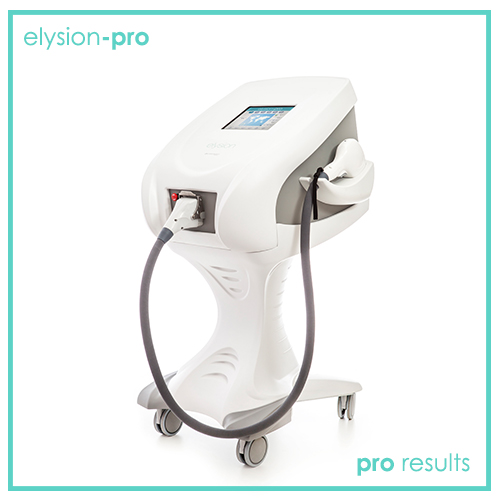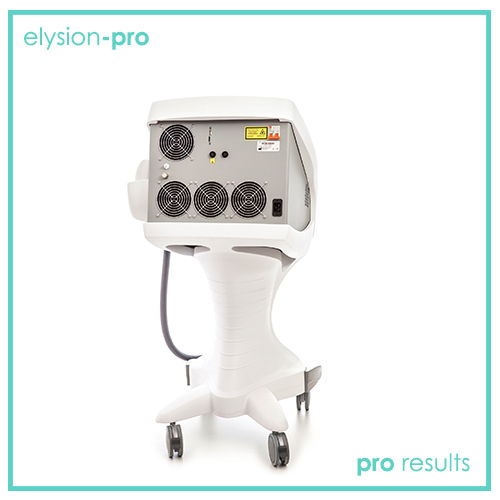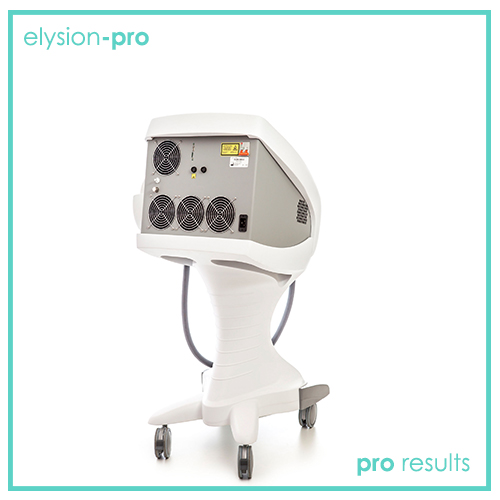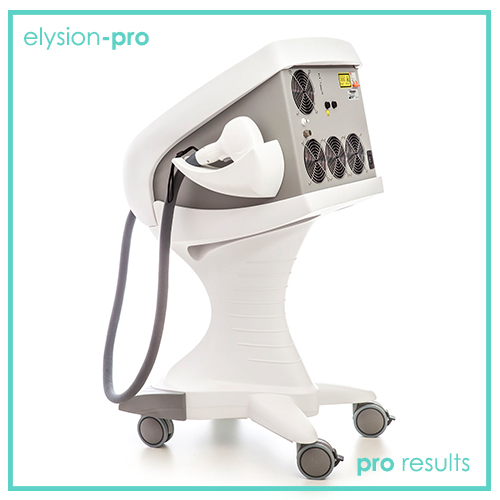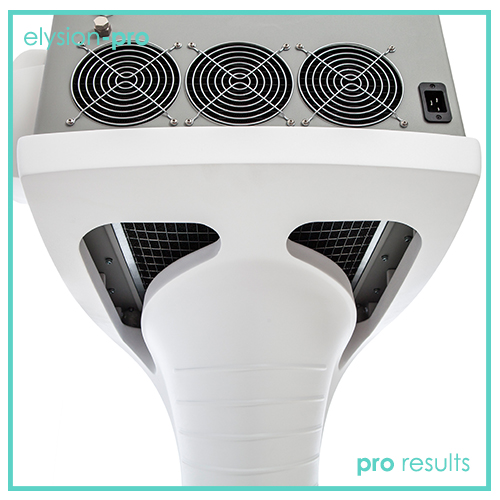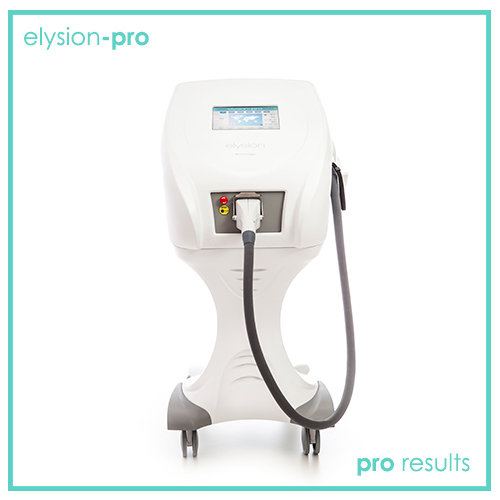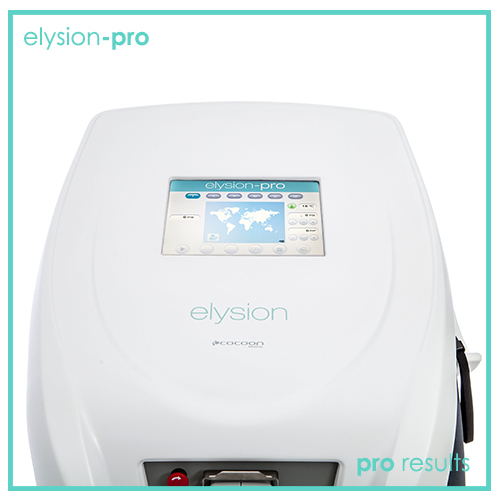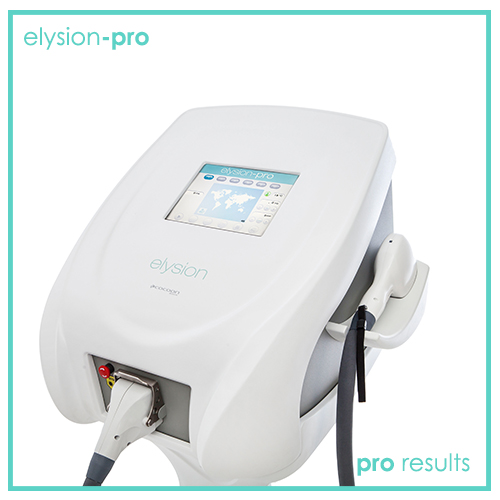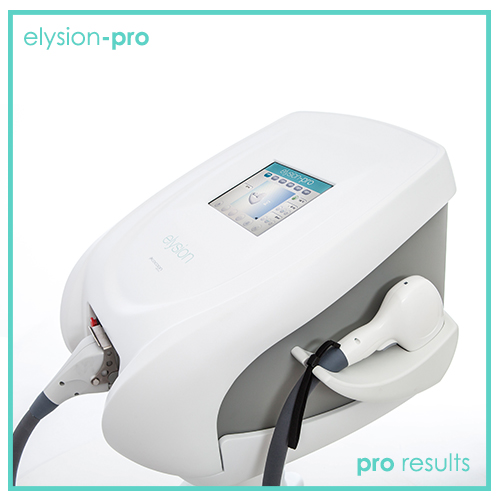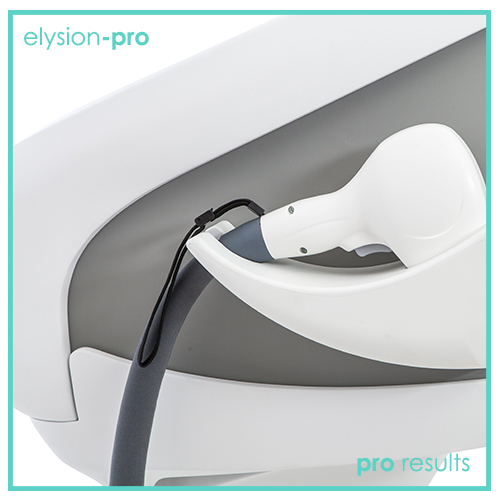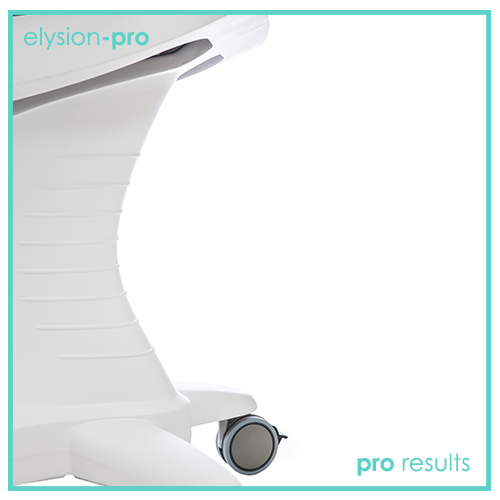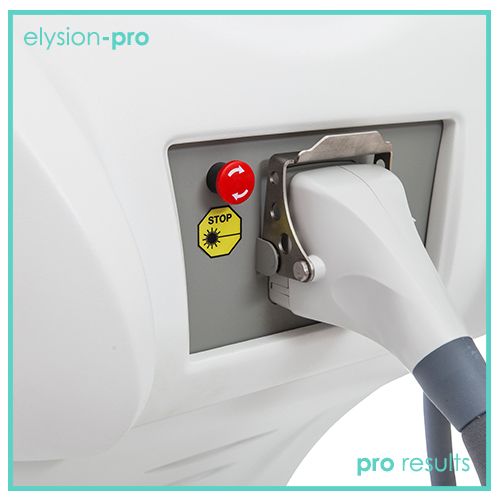 PROVEN LASER HAIR REMOVAL RESULTS 
Elysion diode laser hair removal machine has seen on a global scale 1 million treatments, 5,000 devices on the market, and in over 40 countries. Elysion has been proven to be a reliable device manufactured by an industry leader, Cocoon Medical headquartered and manufactured in Spain. Cutting edge development and latest technical design has proven to be effective, safe, conformable, and profitable. Elysion professional laser hair removal machine been developed to be the new generation of diode laser hair removal with high power, USP technology (ultra short pulse), gold standard 810 nm diode, 2 spot size options, 2 operational modes, and monitored for consistent updates. The Elysion-pro platform has positioned itself as the best laser hair removal machine option on the market due to its versatility and efficiency. 
LATEST LASER HAIR REMOVAL MACHINE
Elysion-pro is the best laser hair removal machine because of USP or Ultra Short Pulse technology, uniquely designed to offer a more effective laser hair removal treatment. To achieve the elimination of cells that generate hair growth Elysion-pro delivers energy in a Ultra Short Pulse that targets and directs heat specifically towards the cells that regrow hair limiting heating of unnecessary surrounding skin. This means less pain, more effective treatment, less over all treatments, and truly effective laser hair removal. While other diode lasers are inefficient, provide poor heating of surrounding skin, and inefficiently produce high heating on the skin causing increased pain and less effective laser hair removal treatment. Elysion-pro is the next generation laser hair removal machine that is a must have for your clinic. 
Elysion A Professional Laser Hair Removal Machine
The Elysion (810nm) system is a Next Generation laser hair removal system, and new standard for energy delivered based on the latest advancements in aesthetic medicine.  The Elysion diode delivers practices today with the latest and most modern enhancements including both Diode and (Ultra-Short Pulse) energy delivered technology, capable of delivering much greater energy and under less time than ever before. The Elysion diode system is the perfect laser hair removal machine to buy or add for any medical practice looking for a safe, fast, effective or more comfortable professional laser hair removal machine to buy for the business. 
Why Is the Elysion The Best Professional Diode Laser Hair Removal System to Buy?
The Elysion diode system is a perfect option for most any business buying a professional diode laser hair removal machine.  The Elyison is a suitable choice for any new business, office, established practice, or any hospital group that is interested in buying or adding a professional laser hair removal machine to specialize in the treatment or service offerings of laser hair removal for all skin types, all-year-round, including Fitzpatrick I – VI, and tanned skin. With the Elysion diode laser your business can take advantage of all the major and added benefits, including; the acquisition of new equipment, affordable pricing, greater ROI, lower operating costs, extendable warranties, reliable service, durability and long term use.
Are There Any Consumables or Hidden Costs?
No, the Elysion-pro laser, just like it's successor the Primelase, does not have any expensive hidden fees, costs,  or consumables. This series of professional laser hair removal machines are very reliable and straightforward, and offer businesses today with the most additions and added benefits.  There are no consumable fees or hidden costs associated with the Elysion professional laser hair removal machine diode system.
Is the Elysion (810nm) Diode Laser Difficult to Use?
Built with a large 10.4" Touch Screen and ready-to-navigate with intuitive software, the Elysion professional laser hair removal machine is very simple to use, with adjustable settings, and intuitive software design built for ease of use for the operator. Operator navigation, settings, and adjustment is exceptionally friendly to find ease of use when navigating or operating the Eslysion diode laser system. 
What Makes the Elysion the Best Professional Laser Today?
Combined with high energy, deep absorption, variable pulse width, faster delivery (Ultra-Short Pulse) technology, and arguably the best diode hand piece in the industry, the Elysion diode is designed to provide better efficiency, exceptional comfort and maximum results. The Elysion utilizes up to 2000W of diode energy to deliver the precise control of adjusted or tailored energy based on the needs of skin, and while additionally protecting, limiting and protecting the surrounding area of skin.
What are the Major Benefits of the Elysion Laser System?
The 810nm wavelength, a Gold Standard in Laser Hair Removal Treatments

FDA Cleared (All Skin Types, Small or Large Areas + Tanned Skin)

Latest Generation in Diode Lasers (Static or Dynamic Mode)

Effective Treatments - High Melanin Absorption

Low Cost to Maintain - Low Cost to Operate

Major Return on Investment - High ROI

Ultra-short Pulse Delivery - High Efficacy 

High Peak Power (2000W / 140j Delivery)

Wide Range - Pulse Duration - Less Time on Skin

Exceptionally Fast Speeds (Up to 15Hz)

Deeper Penetration & Faster Results

Crystal Freeze – Maximum Comfort Cooling

No Down Time - Schedule Lunch Break Treatments!
What is the Difference Between Static & Dynamic mode?
The frequency in the pulse repetition is 1, 2, or 3Hz in static mode and up to 15Hz in dynamic mode. Users get the choice to benefit from two different spot sizes, where one attachment feature may offer 10x10 and there other 18x10. The Elysion is a great solution for safe, fast, powerful, and effective professional laser hair removal machine that delivers its operators a multitude of spot sizes, speed, pulse width and power options to achieve maximum outcomes & the best intended results.
What is USP (Ultra-Short Pulse) Technology?
 The Elysion Ultra-Short Pulse technology has been developed to change the way we evaluate laser hair removal & hair depletion technology today, in new better ways than ever before. With better precision & more timely control the Elysion Ultra-short energy pulse adjustments deliver optimal temperatures to successfully destroy the follicle of the hair, and without creating damage to the surrounding or unintended areas of the skin.  Ultra-Short Pulse technology is an efficient technology to maximize the profitability of ownership over time in every shot!
Is the Elysion Safe on all skin types?
Yes, the Elysion 810nm Diode Laser is FDA Cleared, for treatments on all skin types, Fitzpatrick I – VI, including tanned skin. It is also designed for full body laser hair removal treatment sessions, for both large or small areas, based on qualified & necessary consultation.  Ultra-Short Pulse Technology limits the amount of laser energy that rests on skill providing safe & effective laser hair removal options when searching or buying a professional laser hair removal machine. 
What is a laser hair removal treatment, how does it work?
During the laser hair removal treatment, the Elysion (810nm) diode laser emits a concentrated light energy that travels by photothermolysis, and is absorbed by the melanin of the hair follicle and throughout the follicle and hair of the shaft. The energy created creates select damage to the follicle of the hair which is intended to destroy or impair the ability for the follicle of hair to grow. During the process the Elysium Crystal Cooling may be set to the chilled temperature & maintained at +5 degrees celsius for maximum cooling consistency and comfort. 
What type of technology does the Elysion system offer?
The Elysion (810nm) diode offers its users the latest technology when buying a professional laser machine. The 810nm wavelength has been called the Gold Standard in hair removal, as it is safe and suitable for all skin types due to its deep penetrations & high melanin absorption. The Elysion professional laser hair removal machine can deliver the necessary amount of powerful energy, and proven to deliver very gently and short purses with very little or short time rested on skin. The Elysion is a powerful, effective, fast, and gentle laser that offers clinics advanced results & comfort, it is  a first choice for any business looking to buy the latest and most affordable new professional laser hair removal machine available in the industry today!
General
| | |
| --- | --- |
| Type Of Device: | LASER Hair Removal Device |
| Type Of Laser: | Pulsed Diode |
| Laser Emission: | Direct Via Quartz Prism |
| Maximum Peak Electrical: | 4,500 W |
| Maximum Energy: | 140J |
| Power: | Single Phase Network 100-240V |
| Safety class: | Class IV laser |
Laser System
| | |
| --- | --- |
| Laser Wavelengths: | 810 nm |
| Maximum Peak Power: | 1600 W |
| Spot Sizes: | 10 x 10 & 18 x 10 mm |
| Cooling: | Crystal Freeze Contact Cooling |
| Static Operation Mode: | 1 / 2 / 3 Hz |
| Dynamic Operation Mode: | 5-10-15 Hz |
| Pulse Length: | 3-400 ms |
| Standard Warranty: | 1 year |
| Fluence:  | Dependent on treatment protocols |
Size
| | |
| --- | --- |
| Dimensions: | 650 x 500 x 450 mm |
| Weight: | 38 Kg |
|   |   |