Primelase The Best Laser Hair Removal Machine
Best Laser Hair Removal Machine
Best in class laser hair removal machine, longer life, increased durability, proven reliability, no cosumables. 
Larger Spot Sizes & Greater Power
Utilize larger spot sizes 30 x 17 mm, true firing speeds up to 10 Hz, And greater power with up to 4800 W.
Durability 
Enhanced internal technical design, latest advancement, enhanced durability. Longer life & cheaper to run. 
Extended Warranty Options
Option to extend warranty up to 3 years! We stand behind the durability of Primelase.
No Hidden Running Costs
No consumables, reliable, low maintenance requirements, longer life, premium laser hair removal equipment.
3 Wavelength System
Best laser hair removal machine because of 3 wavelength option. 755 nm, 810 nm, BLEND (810 nm+940nm+1060 nm).
Primelase Laser, Multifunctional Laser Machine For Sale
Estimated Monthly Payments:
36 months: $2,777 per month
48 months: $2,083 per month
60 months: $1,667 per month
BEST PRICE GUARANTEED! WILL BEAT ANY COMPETITOR PRICING!
Key Benefits :
Easy to Operate
Exclusive Applicator Sizes & Wavelengths
4800 W of power
Higher Efficiency & Speed
Low Maintenance Requirements
Longer Life
Extended Warranty Options
Increased Durability due to technical design. 
Proven Reliability 
No Hidden Running Costs
Large Spot Size option of 30x17 mm
3 Wavelengths: 755 nm, 810 nm, BLEND 810+940+1060
Effective & Affordable Laser hair removal machine
Safe On All Skin Types
Faster Treatment Types with In Motion Mode
FDA Approved For Laser Hair Removal, Vascular lesions, Wrinkles, Skin Rejuvenation, Pigmentation
Indications for use for PRIMELASE diode laser hair removal system with 755nm, 810nm and 810 – 1060nm applicators include:
• Hair Removal with Static and Dynamic modes intended for permanent reduction in hair regrowth, defined as a long term, stable reduction in the number of hairs re-growing when measured at 6, 9, and 12 months after the completion of a treatment regime.
• Treatment of Pseudofolliculitis barbae (PFB).
• Use on all skin types (Fitzpatrick I-VI).
BEST LASER HAIR REMOVAL MACHINE 
A premium laser hair removal machine with enhanced effectiveness. Primelase HR is a high powered diode laser reducing the time per session as well as number of sessions required. Offering multiple wavelengths, Alex / Diode / Blend. The blend hand piece features 3 wavelengths blended and siamotainously delivering 810 nm / 940 nm / 1060 nm delivering most advanced laser hair removal treatment.
MORE WAVELENGTHS. LATEST TECHNOLOGY
755nm:

Is particularly effective on light skin types and light hair. It is The only 755nm diode on the market with very high power (3,600W).
810nm:

Our most powerful solution thanks to its versatility and effectiveness related to its high power (4,800W). Safe for all skin types.
BLEND:

810+940+1060nm the ultimate technology for darker and tanned skin. The deeper penetration and low impact on 
epidermal melanin allows for safe and effective treatment on all skin types and all treatment areas.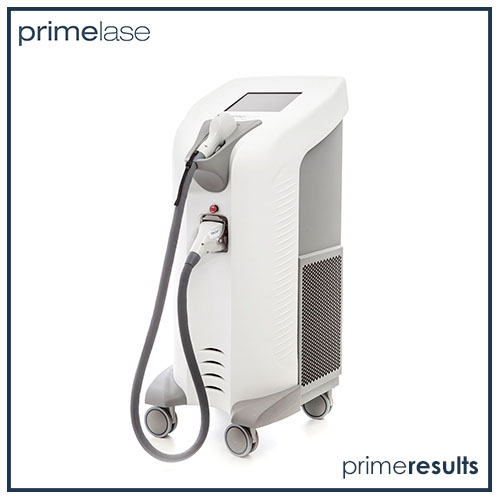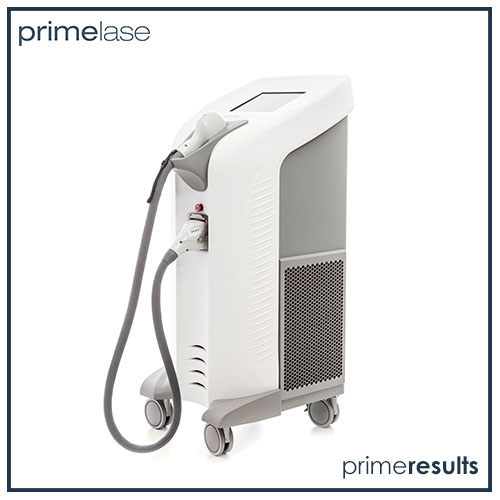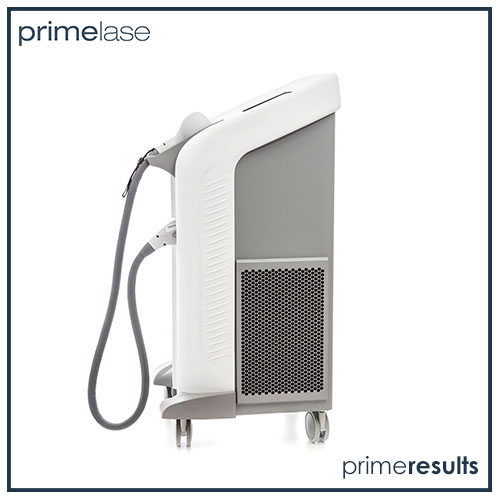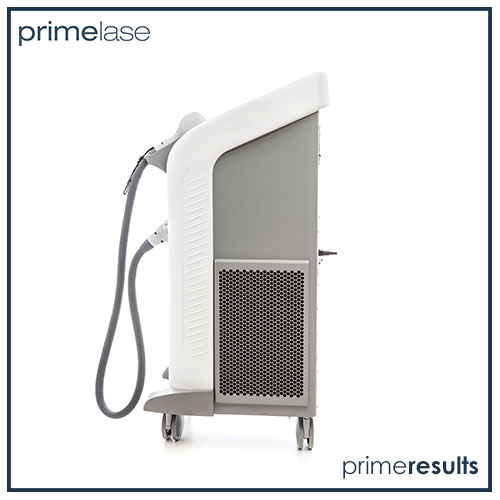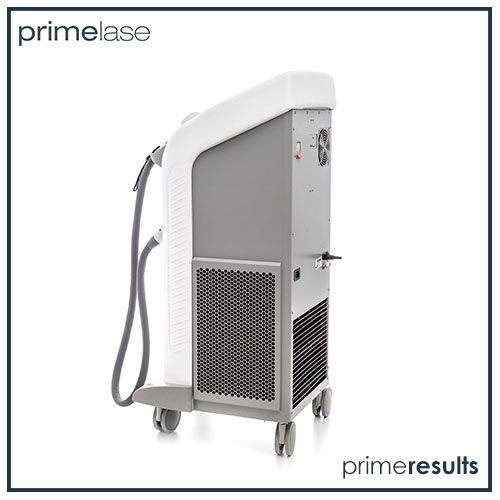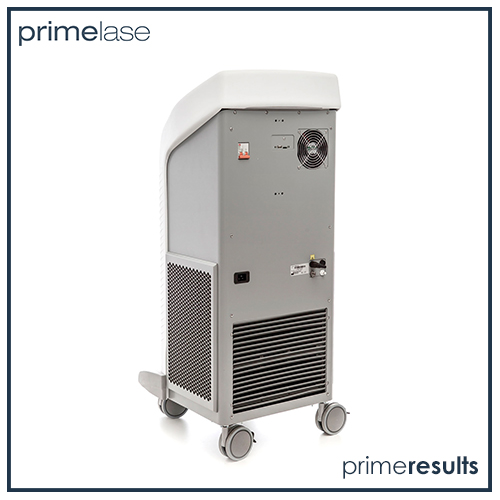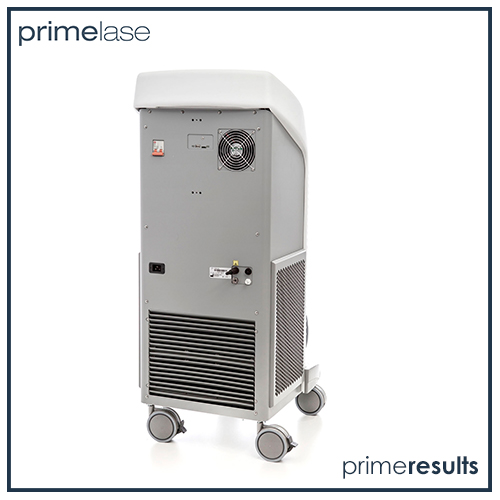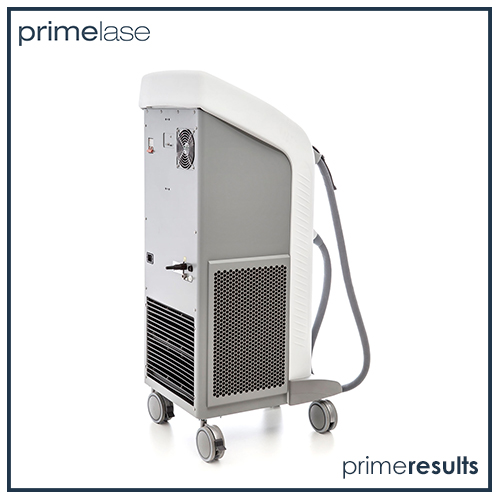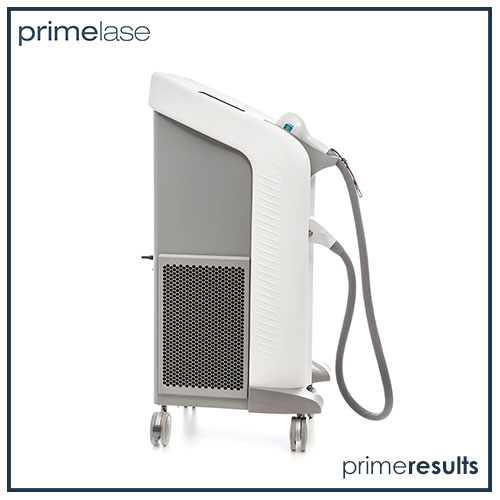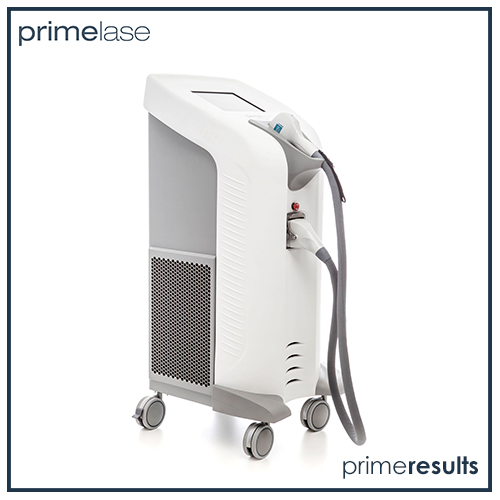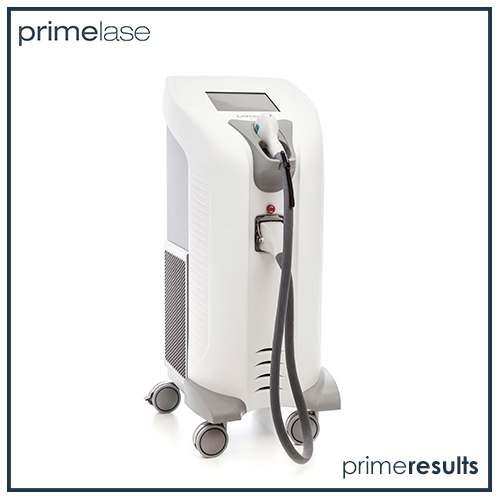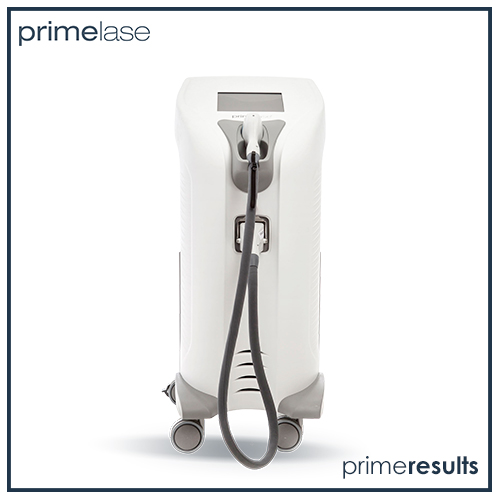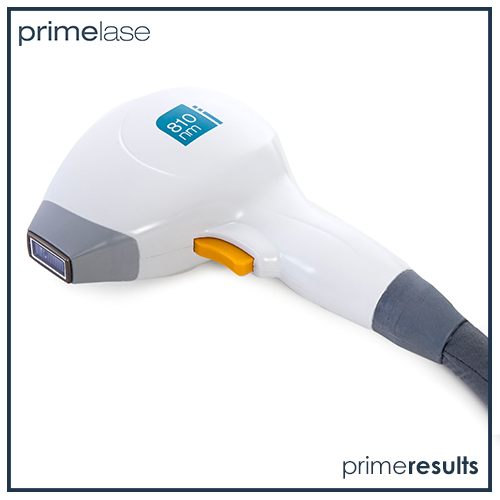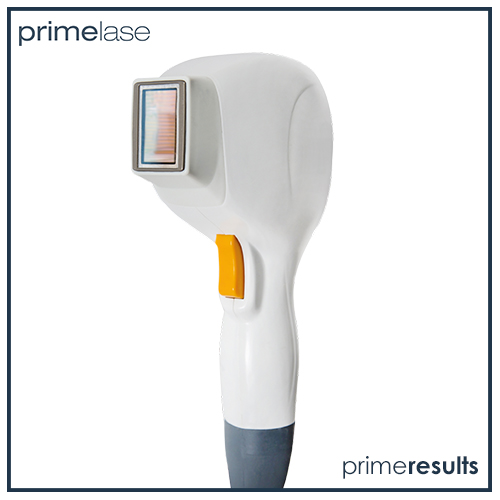 TRUSTED & PROVEN RESULTS 
Higher power and BLEND hand piece option provides proven results. Combine with Dynamic InMotion mode without loosing effectiveness and sustained comfortability. Successful treatment results with follicular edema which are red bumps showing successful treatment effect of thermal damage of the hair follicle or treatment area. Larger spot sizes, increased durability, proven results, and up to 4800 W of power. A must have for any clinic who is serious about laser hair removal and many reason why the Primlase device is the best laser hair removal machine for your clinic. 
MAXIMUM LASER EFFECTIVNESS
A main feature of Primelase is having peak power that is higher than other diode lasers and advanced innovative technology of USP or Ultra Short Pulse that delivers pulses that start at 3 ms and will reach the optimal temperature to destroy the hair follicle without affecting the surrounding skin. This means a more effective laser hair removal treatment, shorter treatment times, less pain, and less over all treatments. Other diode lasers do not compare to Primelase, other diode lasers lack this feature, unevenly heat the skin causing more pain, and less effective treatment. Primelase innovative feature of USP delivers very short pulses that heat the hair follicle uniformly to an optimal temperature without heating the skin, making it extremely safe and effective. 
BLEND HP FOR DARK SKIN HAIR REMOVAL
A revolution in hair removal technology is an applicator design for dark and tanned skin that combines 3 different wavelengths in a single shot. 1 shot = 3 wavelengths, the exclusive Blend 810 +  940 + 1060 nm diode technology reinvents the hair removal laser by delivering 3 wavelengths simultaneously for highly effective treatment of varying hair depths on a wide variety of dark & tanned skin patients. Thanks to the Blend of 810 + 940 + 1060 nm diode, removing hair from tanned and dark skin is very save and effective on all patients throughout the year. 
Why Is Primelase The Best Laser Hair Removal Machine
Buy the best laser hair removal machine for your medical spa. Enhanced technical design that equates to longer life, cheaper to run, no hidden costs, enhanced durability, and high impact ROI laser hair removal system that will prove the test of time in your clinic. We stand behind the Primelase laser hair removal system with the option to extend the warranty up to 3 years! The unique internal design of the Primelase allows for more enhanced features & the ability to extend the lifespan of the machine.
Are there any consumables or hidden costs?
No, the Primelase laser hair removal machine has no running costs or hidden consumables fees. This laser hair removal machine is very straightforward and offers owners the benefit of immediate and high ROI enhancements due to the exceptional durability, faster treatment times, elimination of consumables, and overall lower cost of acquisition and maintenance compared to all other products in the market. By eliminating the need for consumables, expensive parts, service pans, or consumable is the best way to shop when adding or buying the best laser hair removal machine for your business.  The Primelase laser offers all of the latest technologies, benefits and features, and delivers all of the tools required to be successful with your laser business or services back by parts, warranty and support when adding new equipment. 
What is the BLEND technology hand piece?
Primelase offers a unique BLEND configuration and is the only laser hair removal machine in the market with the BLEND combination. This is combining 3 laser wavelengths in 1 shot of 810nm + 940 nm + 1060 nm. This equates to deeper treatment penetration, deeper heating, and enhanced effectiveness. Safe and effective on tanned skin which means possible summer treatments and keep revenue occurring year round. The Primelase is a special laser, and truly ahead of its time as it can now deliver faster, safe, and more comfortable treatments than previously before. The Primelase laser is a staple in the future of diode lasers, and pronounced for its speed, effectiveness, versatility, affordability and results. It is truly an exciting time to shop or buy the best laser hair removal machine today for your business. With the Primelase you can acquire a solid & reliable platform that can be expanded on in the future through additional attachment or modes. Buy a laser hair removal machine that will not need to be replaced because it is not serviceable or upgradable tomorrow, the Primelase delivers for your business & patients the effective & affordable treatment offerings you are searching for now!
Why is the Primelase the Best Laser Hair Removal Machine to Buy Now?
Experience the immediate difference with faster speeds, larger spot sizes, more power and benefit from a series of wavelengths for deeper penetration depth, higher absorptions and  in less time than ever before. The Primelase laser delivers the art of aesthetics with science and beauty. The Primelase enables its operators to finally deliver BLEND wavelengths through new technology, more precision, control, comfort, speed and speed than ever before.  What could be better than adding 810nm Diode,  755nm Alexandrite (Alex) or Nd:YAG Blend (810nm + 940nm + 1064nm) with ultimate speed, delivery, comfort, and reliability for predictable outcomes the Primelase is absolutely premiere. benefit from great power, speed, larger spot size, crystal cooling, wavelengths plus blend, and start offering your patients the future of the Best In-Class Diode Laser Technology and best laser hair removal machine for sale in the market. 
What is the process of laser hair removal with the Primelase?
The Primelase laser could easily be considered the very best diode laser hair removal machine ever released for the effective laser hair removal wavelength and blend options for diode laser treatments on all skin types, Fitzpatrick I - VI, including tanned skin.  The Primelase is intended to be used for full body, large or small areas, and may be used to target both coarse or thin or fine hair, or wherever visible hair is present. The operator is able to choose a platform to choose the best platform or selected mode to deliver the very best treatment method, including either delivery options for a 755nm Alex, 810nm Diode, or BLEND (810 / 940/1064) & YAG Treatment to meet the demands & complexity of skin.  With the Primelase ultimate delivery, built-to-run & deliver fast, utilizes up to (4000W of diode energy) and is designed and able to deliver the correct amount of energy necessary to destroy the hair follicle without causing harm or damage to the surrounding skin. 
How does laser hair removal work?
Laser hair removal works by selecting a very specific & concentrated energy of light, that is selected, tailored, and safe for your skin. This light is emitted and sent to light to affect hair follicles, or sacs, which are small cavities in the skin from which hair grows. Once the melanin of the hair follicle becomes absorbed by the laser, the energy will travel through the hair until it can damage or hinder the complete growth, or otherwise removed or vaporized.  It may be possible for patients with dark skin to be treated with multiple options, or either by using the Diode, Alex, or YAG Blend wavelengths to receive a safe, effective, and efficient treatment prior to medical consultation.. The Primelase can deliver a combination of up to (3) Wavelengths all in 1 Pulse to maximize benefits, enhance results and shorten treatment times.  The Primelase delivers gentle power, speed, short pulse durations, crystal cooling, maximum comfort, and several delivery options for Alex,  Diode or combination with YAG Blend it is designed for all skin types, and any thriving business.
What are the Benefits of Buying or Leasing the Primelase?
Laser hair removal is on the largest & fastest growing areas in both beauty & aesthetic medicine today.  People all alike, both young or old, or generally anyone you may talk to is likely already aware of the intended benefits. They currently have unwanted hair, have had unwanted hair, or are ultimately seeking an effective & affordable solution to have some type of unwanted hair on their body. Laser hair removal treatments today are for everyone, and businesses adding the most effective & affordable solutions to provide the best experience and comfort are positioned to win. Not only do you get the most advanced technology with the Primelase, you are backed by parts, warranty, and support when buying new equipment with MedLaser USA. You can have the fastest Ferrari in the world, but if you don't have the right parts or service team, you won't get off the start-line. Primelase is designed to take your laser hair removal business to a whole new level, and MedLaser USA is here to make sure you are able to fully get there and succeed. 
Why Is the Primelase The Best Laser Hair Removal Machine to Buy?
The Primelase diode system is the best diode laser hair removal machine to buy for any new business, office, hospital group, or physicians practice that is looking to offer advanced, safe, high speed, reliable, customizable and predictable outcomes to achieve successful results when buying or shopping for the best laser hair removal machine for your business. The Primelase is a top pick for any professional laser hair removal machine if your business would like to specialize in the treatment or service offerings of laser hair removal for all skin types, all-year-round, including Fitzpatrick I – VI, and tanned skin in a shorter time than ever before.  The Primelase allows businesses to take advantage of more benefits listed than ever before including the acquisition, purchase, lease, rental or finance of new equipment, all with affordable pricing, greater ROI, lower operating costs, extendable warranties, reliable service, greater durability and long term for service & use.
Is the Primelase (Diode, Alex, YAG + Blend ) Laser Difficult to Operate?
Built with a large 10.4" Touch Screen and ready-to-navigate with intuitive software, the Primelase professional laser hair removal machine is very simple to use, with adjustable settings, and intuitive software design built for ease of use for the operator. Operator navigation, settings, and adjustment is exceptionally friendly when navigating or operating the Primelase diode. With the Primelase laser users experience the Maximum Power and Ultra Short Pulse  delivery, in addition to efficient Alexandrite, Diode, or YAG Blend Options for treatments, based on skin and specialty, plus Crystal Freeze Tip + and 10Hz or True In-Motion Delivery, there is the best diode Laser Hair Removal Machine that is an ultimate and top laser best buy for any business.
What are the Major Benefits of the Primelase  System?
Diode + Alexandrite + Nd:YAG with BLEND.

755nm, 810nm, 940nm & 1064nm Wavelengths

Gold Standard (4 Wave-length) Specialization

FDA Cleared (All Skin Types, Plus Tan Skin)

State-of-the-Art Laser Technology

Exceptionally Fast Speeds (Up to 10Hz)

Intuitive – 10.4" Touch Screen – Easy to Operate

Multiple Depths – Multiple Absorption

Low Cost to Maintain with Low Cost to Operate

Long Term & Reliable – High Power Use

Major Return on Investment – High ROI

Ultra-short Pulse Delivery

High Peak Power (4000W / 140J Delivery)

Wide Range for Pulse Duration – Simple Settings

Hair Removal for Full Body (Effective on Small or Large Areas)

Deeper Penetration & High Melanin Absorption

Virtually Pain free – No Downtime

Crystal Freeze Comfort – Maximum Cooling
What is the Difference Between Static & Dynamic mode?
Primelase offers the operation for both Static or Dynamic mode options of offering the latest & most advanced methods for effective laser hair removal machines in aesthetic based medicine. The frequency pulse repetition may equal 1, 2, or 3Hz in static mode and up to 10Hz in dynamic mode. The intuitive software allows the user to choose, or benefit from two different spot sizes, where one attachment feature may offer 10x10 and there other 18x10.
What is USP (Ultra-Short Pulse) Technology?
 The Primelase Ultra-Short Pulse technology has been developed to change the way we evaluate laser hair removal & hair depletion technology today, in new better ways than ever before. With better precision & more timely control the Primelase Ultra-short energy pulse adjustments deliver optimal temperatures to successfully destroy the follicle of the hair, and without creating damage to the surrounding or unintended areas of the skin.  Ultra-Short Pulse technology is an efficient technology to maximize the profitability with no consumables of ownership!
What is the process of laser hair removal?
The process for laser hair removal today is simple, and in general, may be used to remove the presence of hair all over the body, full body hair, and for all skin types where visible hair is present. Always consult first with your local or specialized physician, or otherwise a qualified healthcare care provider prior to receiving a laser treatment. The Primielase is a safe & effective for laser hair removal treatments on both light & dark skin.
Is the Primelase safe on all skin types?
Yes, the Primelase specializes for all skin types, and provides a series of platforms or options.  Treatments received may include 755, 810, 940, or 1064nm wavelength or multiple combinations based on the individual needs and/or type of skin. The Primelase is the first of its kind and FDA Cleared, for treatments on all skin types, Fitzpatrick I – VI, including tanned skin. It is also designed for full body laser hair removal treatment sessions, for both large or small areas, based on appropriate  review and prior medical consultation.  
What is a laser hair removal treatment, how does it work?
During the laser hair removal treatment, the Primelase diode laser emits a concentrated light energy that travels by photothermolysis, through the absorbed melanin of the hair follicle and through the hair shaft. The energy creates targeted damage to the follicle of the hair which impairs and hinders its ability to grow. During the process the Crystal Contact Cooling provides very safe & comfortable treatments for the removal of unwanted hair to be targeted and removed.
What type of technology does the Primelase system offer?
The Primelase multi-function platform offers its users the latest technology when buying a laser hair removal machine. The 755nm Alexandrite, with 810nm Diode, + 810 / 940 / 1064 BLEND is the latest advancement hair removal, as delivers safe and suitable for all skin types due to its power, speed, energy, penetration and effectiveness range of depth and absorption. The Primelase offers all of the benefits of faster treatment times and is a premium professional laser hair removal machine built for performance powerful energy, and also delivers very gently but quick delivery due to the very short time rested on skin. The Primelase is a powerful, fast, effective and gentle laser that offers clinics advanced results. With quality, comfort and cooling the Primelase is a top choice for any business looking to buy the latest and most affordable or best laser hair removal machine.
What Makes the Primelase the Best Laser Machine to Buy Today?
Combined with the (Ultra-Short Pulse) technology the Primelase is designed to provide maximum efficiency and results. The Primelase utilizes up to 4000W of diode energy to deliver the precise amount of custom tailored energy based on your skin, and while additionally protecting the surrounding area of skin.  In comparison, there is not yet any other machine that compares to it, making the Primelase among the absolute best laser hair removal machines to buy today.
General
| | |
| --- | --- |
| Type Of Device: | LASER Hair Removal Device |
| Type Of Laser: | Pulsed Diode |
| Laser Emission: | Direct Via Quartz Prism |
| Maximum Peak Electrical: | 10,000 W |
| Maximum Energy: | 300J |
| Power: | Single Phase Network 120-240V |
| Safety class: | Class IV laser |
Laser System
| | |
| --- | --- |
| Laser Wavelengths: | 755 nm, 810 nm, 940 nm, 1060 nm |
| Maximum Peak Power: | 4800 W |
| Spot Sizes: | 10 x 10, 20 x 9, 30 x 9, 30 x 17 |
| Cooling: | Crystal Freeze Contact Cooling |
| Static Operation Mode: | 1 / 2 / 3 Hz |
| Dynamic Operation Mode: | 5-10 Hz |
| Pulse Length: | 3-400 ms |
| Standard Warranty: | 1 year |
| Fluence:  | Dependent on treatment protocols |
Size
| | |
| --- | --- |
| Dimensions: | 1140 x 480 x 550 mm |
| Weight: | 75 Kg |
|   |   |